For Darren Elias The Motivation and Pressure To Execute Is All Self Imposed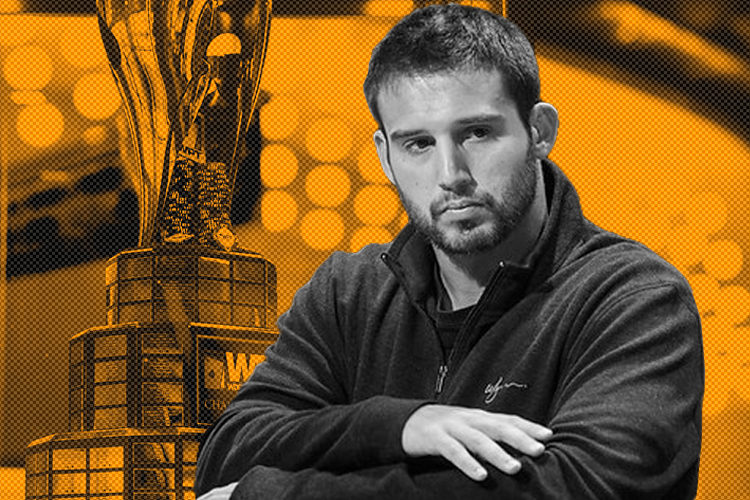 When one thinks of the World Poker Tour it's almost impossible not to think of Darren Elias. His success is nearly synonymous with the brand. Elias, famously, sits alone at the top of the heap when it comes to any number of World Poker Tour categories including Main Event titles (4), final tables (12), and cashes (43).
However, Elias' extensive poker resume is much more than WPT Main Event victories, and at 35 years old, it's something he's proven year over year. Elias has excelled in 2021, picking up big-time scores in a trio of High Rollers on the PokerGO tour (totaling nearly $1 million in earnings) as well as having a breakout year playing online that saw him grab a prestigious GGPoker Super MILLION$ title for one of the biggest cashes of his career.
As the World Poker Tour prepares to wrap up Season XIX with the WPT Five Diamond World Poker Classic Main Event at the Bellagio, Elias is headed to Las Vegas looking to add to his 2021 High Roller totals and, perhaps, pick up title number five.
We caught up with him for an extended conversation about his success on the WPT, his aspirations for the World Series of Poker, balancing his home and poker lives, and the pressure he puts on himself to succeed.
__
For many fans, when they first hear the name Darren Elias, they probably think of the World Poker Tour. You sit alone with four WPT Main Tour titles and Matt Savage has taken to calling you the "WPT G.O.A.T.". How have you been so successful on the WPT? What is it about those events that play to your strengths?
Yeah. I love the World Poker Tour and that makes up a bulk of my schedule during the year. I play about 50 to 60 tournaments every year, I'm pretty consistent, and World Poker Tour tournaments probably make up a dozen of those – and I do like that most are in America or Canada.
I traveled internationally a lot in my early '20s playing EPTs, Macau…basically everywhere in the world, and I kind of found that I liked playing in the [U.S.] and North America. A couple of reasons behind that, and probably linked in with my success is that I like the knowledge of the player pool in these events. Most of the time these WPT events, it's the same group of guys, and each stop has its locals, but I do think knowing the players gives me a bigger edge. I wouldn't say that my results are equal to my edge, where I would say I probably over-performed on the World Poker Tour and under-performed at the World Series, luck-wise or expectation-wise, but I do love the events and I do love that they're all basically in the states.
I know you plan on playing the $25K High Roller at the upcoming WPT Five Diamond but didn't realize how many High Roller cashes you actually have on your resume. How do you differential between playing your normal schedule of events and when you jump into high rollers? Is playing higher something you continue to aspire to or are you just picking the best spots you can?
Well, I would say I kind of hand pick the high roller events that I want to play and I try to pick the bigger ones, the ones with the biggest prize pools and most runners. I don't have a ton of interest in traveling internationally to play small field 100Ks or 250Ks. I mean, I've done it in the past, but for me, my biggest value is time. Especially now that I'm home with a family, I really have to pick my events that I want to go to. I probably play five to ten 25K plus events a year – maybe, 25K, 50K, 100K, something like that – and they do play differently than, like, a World Poker Tour Main Event, obviously, and you have to be sharper.
I might do more preparation beforehand if I know I'm playing a tough 100K, and you have to be more fundamentally sound in an event like that because you're playing higher tier players, some of the best players in the world are in those events. In the World Poker Tour, that's not always true.
When you decide you are going to play higher, do you put in extra study time?
Absolutely. Yeah. I think most players would agree, at lower stakes, playing even $1Ks, $2Ks, $3,500, $5Ks, you can probably get away with not studying if you have good instincts and still win. But if you play in bigger events, these $50Ks, $100Ks, and you're playing with the elite players, you really need to put in your practice study work or you're going to find yourself in there guessing a lot, which is not the way to win.
You just mentioned that time is one of your most valuable currencies and you've decided to take on a role as an ambassador for BetMGM/partypoker U.S. For some players becoming an ambassador is an aspiration, was it one for you? In the past you've talked about how public speaking wasn't really your thing, do you feel any added pressure taking on this new role?
I wouldn't say it's added pressure but it is something that's taken me a while to get comfortable with. It's not my natural personality to put my face on something and put it out there. It's taken some time to get used to, and the main reason of my drive behind this is, I felt so terrible for the American online poker players over the last 10 years, and I feel like this is a good opportunity. If there's anything I can do to further our cause and get bigger tournaments online in the US, get more states legalized, linked up, organize tournaments, work on schedules – anything I can do to help get online poker back in the US should be a priority. I think at this point I'm in a position where maybe I can make a little bit of difference, and that's kind of my long-term goal with BetMGM and partypoker.
Speaking of online poker, you have a reputation as a live pro but this year you cracked the worldwide PocketFives Top 10 rankings, have more than $8 million in career earnings, and have both a WCOOP and Super MILLION$ title on your online resume. Where does an online grind fit into your schedule right now? I guess most of that took place this year while you were traveling abroad?
Yeah. Last year I played a lot on GGPoker during COVID. I feel like I cashed for more last year than I probably did in my whole online career just because the stakes of the tournaments nowadays on the international sites are huge. That may have been kind of a one-off year because of COVID, there weren't any live tournaments and that was just a weird year. I do see myself playing a lot more online in the states, but my international, rest of the world, online career is probably drawing to a close I would say.
You talked a little about how maybe variance has been on your side in WPT events, more so than the WSOP. You don't yet have a WSOP bracelet and I wanted to know if WSOP success, outside of the money, is on your list of things you'd like to achieve? Are you thinking 'I would like to win a bracelet'?
I would like to win a bracelet, but I would say it means less now than it used to, just in how easily they're giving them away nowadays with the online events and these Flip & Gos. You can play a 50 runner, $200 event online and win a World Series of Poker bracelet and that kind of takes some of the prestige away from it. But, sure, when I go to the World Series every year I'm trying to make final tables. I'm trying to win. I don't play the full WSOP schedule where I'm in these $1,500 No Limits, battling ten-handed all day. I'm not in a lot of those, but I do play most of the $5K+.
I play Deuce-to-Seven, so some of these events are smaller fields, like under a hundred players, and I am in there and I'm trying to win a bracelet. That would mean something to me, to win one of those events, the high roller 10K Deuce-to-Seven no limit, something like that. I think those events still carry some prestige, and when I'm going out there, I'm trying to win those.
Where do you land on mixed games? Do you like them and are those fields you would like to be competing in?
Not really. My experience with mixed games is, I don't really like the limit games. I never have. I mean, I played Limit Hold'em when I first started playing poker. I was 17, 18 years old at casinos, and I played a little bit of Stud and 08, that kind of thing, and to be honest, I find them a little boring. I'd gravitate more towards No Limit games, so I like No Limit Deuce-to-Seven. I've played Pot Limit and No Limit Triple Draw online quite a bit. I like those games, and I could see maybe down the line I play more PLO, but I really don't have much interest in limit games, so I'm a bit restricted in that regard.
I'm sure if I put in the study and really tried to learn these games, then I could become a winning player, but I don't enjoy them so I'm not really devoting my time there.
What are your thoughts on the WSOP moving to the Strip? Are you planning on making the quick turnaround this summer for the World Series of Poker?
Yeah, I'll be there, and I kind of don't know what to expect. I have low expectations. I'm kind of happy to get out of the Rio and erase all my memories of the World Series when I haven't done amazing. So maybe I'll get new mojo here at Ballys or whatever it's going to be called when we're there. I think it's cool that it's on the Strip. I really don't know what to expect, but I will be there and I'll be playing.
You have a family with two small kids, how do you strike a balance between grinding the circuit and being present for your family?
I've learned a lot about it over the last five years, and one important thing I found, is keeping the trips short. I can't go to Las Vegas for a month and play the WSOP and be away from my kids and my family that long. So, kind of breaking it up into shorter trips, which is one of the reasons World Poker Tour's great now. They have a Main Event, maybe a high roller, but it's one or two events. It's a week. I'm there. I'm back. I really like that, and mentally, kind of, when I'm on a poker trip and I'm there competing, battling, I'm thinking about poker and I'm 100% focused. When I'm home, I'm being dad and I'm being a husband and trying to do these duties, and I think keeping them separate has worked well for me.
One more, do you put any pressure on yourself to stay ahead of the pack when it comes to WPT titles? There's a number of heavy hitters with three titles looking to make it four, so just wondering what your state of mind is when you think about that.
I put pressure on myself regardless of who's chasing me. Like, I get to these final tables or deep in these events and I feel huge pressure to execute just to do the right thing. I'm in such a good spot, usually deep in these things against weaker players, playing for a lot of money where there are big opportunities and these are kind of what I've trained and prepared for. I always feel pressure to execute at these final tables, and I don't think I'm driven too much by who's on my tail or what other people are doing, because if I mess up in one of these final tables, these big spots that you get once a year or once every other year, that's going to drive me crazy no matter who has three titles, who has four titles.
I'm tough on myself in that regard, so I don't think I need any extra motivation.