The Five Largest Cash Game Hands of 2015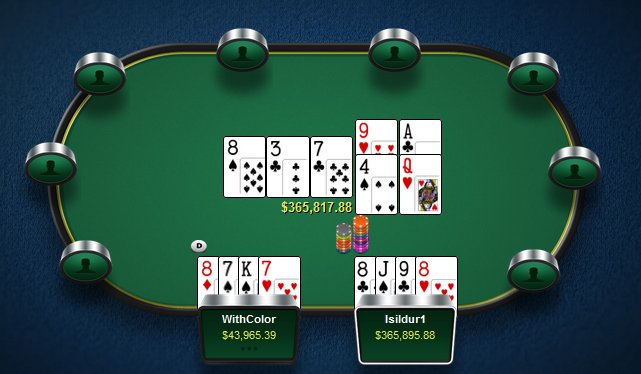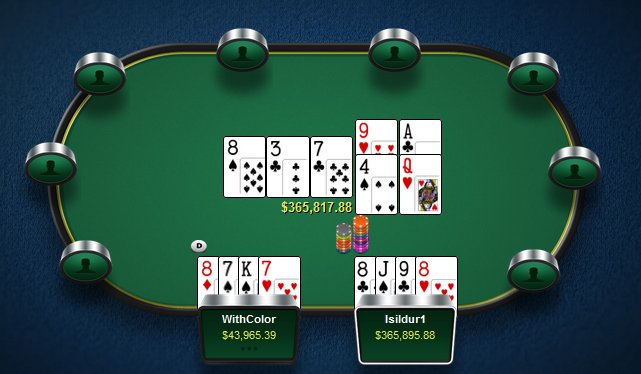 In a recent article, HighStakesDB presented the five biggest online cash game pots of 2015. Let's take a look, starting with number five.

#5 — Isildur1 over WithColor, August 24 – $200/$400 Pot Limit Omaha on PokerStars – $274,858 – Watch it
These are two names we will see again later: Viktor "Isildur1" Blom and Sean "WithColor" Rafael. From the small blind in a $200/$400 PLO game, WithColor raised to $1,360 pre-flop and was re-raised by Isildur1 to $4,240. Rafael made the call and then called again on the 4h-Qc-3h flop when Islidur1 led out with a $5,200 bet. With the 3c on the turn, Isildur1 bet $12,800, WithColor raised to $38,600, and Isildur1 called. Isildur1 checked the Ts on the turn, prompting WithColor to move all-in for $89,229, a sum which Isildur1 called.
WithColor turned over Ah-6s-3s-4c for a full house, while Isildur1 revealed Qh-Td-5s-Qs for a better full house, allowing him to take the $274,858 pot, the fifth largest of 2015 so far.
#4 — RaiseOnce over Otb_RedBaron, May 31 – $200/$400 No Limit Hold'em on PokerStars – $296,092 – Watch it
RaiseOnce is none other than next year's Poker Hall of Fame shoo-in, Phil Ivey. They were in a hand with another player, who quickly got out of the way pre-flop. Otb_RedBaron was fortunate enough to flop a set of Queens and was probably loving life when Ivey called his $2,300 flop bet and $10,300 turn bet, but unfortunately for Otb, Ivey had a straight draw on the flop that came through on the turn. When Ivey moved all-in on the river, Otb_RedBaron couldn't help but call and lose his stack.
#3 — RaiseOnce over Ben86, October 10 – $200/$400 Pot Limit Omaha on PokerStars – $298,606 – Watch it
It's Phil Ivey again, this time against Ben "Ben86" Tollerene in Pot Limit Omaha. Isildur1 was also at the table, but he and another player folded pre-flop when Ivey and Tollerene started raising. It was an action flop, as both players had heart flush draws. All the money got into the pot at that point, but since the flush never came to fruition, Ivey's pocket Kings won the day. Tollerene was unable to do anything but pair a Queen on the river.
#2 — JayP-AA over Isildur1, September 13 – $200/$400 Pot Limit Omaha on PokerStars – $346,433 – Watch it
These high-rollers like PLO, huh? With Jd-7d-6c-Kd, Isildur1 allowed JayP to be the aggressor through the turn. Blom had flopped two pair on a Tc-Js-6d board, while JayP had Ad-9c-As-Qd for an overpair and a straight draw. The 5d on the turn gave them both diamond draws, but when the 5h was dealt on the river, Isildur1 played back at JayP until they each only had about $20,000 left behind.
The river card, though, counterfeited Blom's two pair, as it gave JayP a better two pair. It was a tough call by JayP, but a smart one.
#1 – Isildur1 versus WithColor, August 25 – $200/$400 Pot Limit Omaha on PokerStars – $365,896 – Watch it
The day after the fifth largest pot we saw earlier, Blom took down Rafael again in PLO. The latter flopped middle set on an 8s-3c-7c flop, while Blom flopped top set. To make matters worse, Rafael had to be feeling even more confident because he had the fourth 8 in his hand, making it much less likely that Blom was hiding the other two. All the chips got in the middle and that was that.
For the 2015 calendar year, Viktor "Isildur1" Blom is the biggest cash game winner according to HighStakesDB's records with $3,584,137 in cash game earnings. That significantly outdistances the second place player, "bbvisbadforme," who has won $965,770. Jens "Jeans89" Kyllonen is third with $880,059, followed by Ben Sulsky… twice. Sulsky has won $743,015 on Full Tilt under the screen name "Sauce1234" and $388,272 on PokerStars under the name "Sauce123."
Want the latest poker headlines and interviews? Follow PocketFives on Twitterand Like PocketFives on Facebook.